Art@Law

Digital transformation for Europe's leading art lawyers


*
Jonathan Hadlow
Senior Design Consultant
Constantine Cannon LLP






Overview

-
Constantine Cannon's Art and Cultural Property Group is a world leading market-focused practice. Under the leadership of Pierre Valentin, the team has a long-standing track record of providing preeminent legal support to key stakeholders across a large number of specialisms. Constantine Cannon did not have a dedicated digital team and did not have a clear digital design strategy or design system. My role has been to develop this area of the business, to inform them of the value of user-centred design, improve usability and build a consistent approach to their client and audience facing digital content.





Challenge

-
Build, monitor and maintain a platform for Constantine Cannon's Art and Cultural Property practice to engage their audience and share legal insights.




Key Contribution

-
1. Develop information architecture and user flows based on user analytics and current platforms

I implemented google analytics to the early blog and firm's website to track visitor's journeys and demographic. This data informed styling and content structure.

-

2. Produce wireframes, prototypes and design assets for digital content and platforms













-



3. Build and maintain Art@Law blog. Monitor performance and upskill team on site usage
The blog was built using wordpress, implementing appropriate plugins and custom CSS. I am responsible for maintaining both the front and back-end of the site.

Visit site ->

-



4. Build marketing email templates with improved styling for readability and accessibility.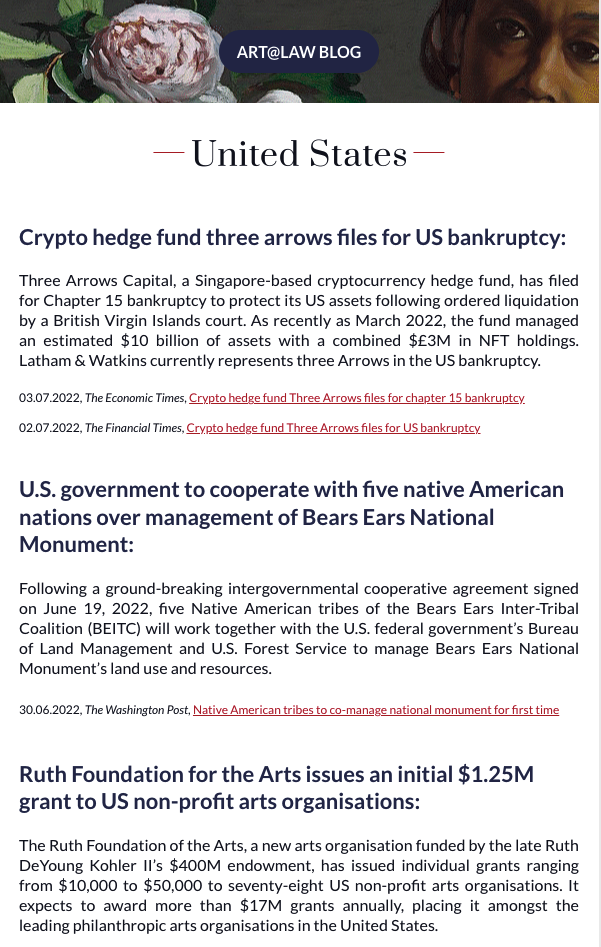 -



5. Managed migration onto Mailchimp and from Mailchimp to HubSpot. Upskill team with new system and processes.